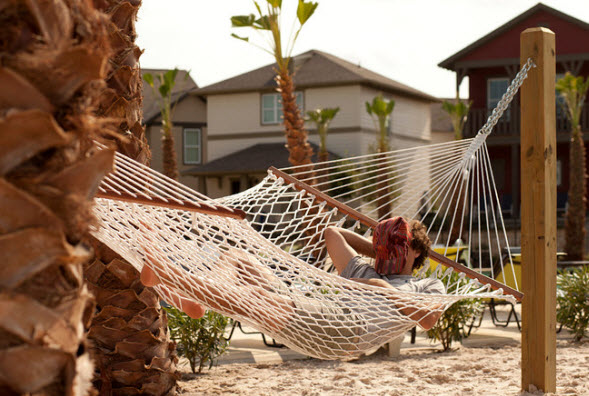 Holy cow! College living now includes luxury amenities like studying in the sauna by the pool, Zen gardens, resort-style pools with private cabanas, putting greens, custom designed furniture, yoga studios, private shuttle service to classes (and on the weekend to the night life hot spots), tanning beds and more.
The cost of college tuition is skyrocketing in America. And it looks from this article at the Wall Street Journal, Resort Living Comes to Campus, so is the cost of living while attending college. (The image above is from The Wall Street Journal article.)
"Both students and administrators say housing has become a big factor in college selection, increasingly trumping degree programs or beloved sports teams. Mark Sampson says his daughter took "about two looks at the campus" of University of Florida in Gainesville and declared it too old. She picked University of Central Florida and hopes to move into University House this fall.

… On campus, "you never got your privacy," says Nicole Ibinarriaga, a 20-year-old junior whose parents pay her $690 monthly rent, which includes parking, at the University House, where she lives in a three bedroom, three-bathroom unit with two other women. "Now, I can take a five-hour shower and not worry about it, or take a bubble bath."
The article is fantastic. You should check it out as part of your plan for getting ready for your children's college education.
It highlights some interesting developments in the higher education world. More and more kids are going to college. The government is providing students (and parents) funding in the form of huge student loans. Schools are chasing students by building nicer facilities. Private companies are jumping in with facilities to cater to all the money being thrown at college education these days.
And it shows the insanity is not likely to end anytime soon.
"At the Lodges of East Lansing near Michigan State University, the pool is heated year-round, and there's an ice-skating rink just for students. During the week, a private shuttle bus takes students to class. On the weekends, they're driven to and from night-life hot spots.

At the Cottages of College Station near the Texas A&M University campus in College Station, Texas, the two-story clubhouse's wood-shingle exterior resembles a tony Hamptons mansion. "Most of these kids are going to have a step down in lifestyle when they have to enter the working-world environment after they graduate," says John E. Vawter, principal of Capstone Collegiate Communities, which developed the Lodges and the Cottages."
Student loans already make it super-easy for a student to live well above their means while they go to school. That's one reason a student is so surprised how hard it is to start paying their student loans back quickly when they get out of school. This new twist in making a student's life more enjoyable will only add to the difficulty.
No wonder kids come out of school with a feeling of being disadvantaged. They have tons of student debt they are dragging around when they enter the work force. And they have to actually crank their lifestyle down after school to adapt to the reality of the working world. That's a very different world than the one they were "promised" when they headed off to school and signed up for all those student loans.
"This off-campus building boom is forcing schools to up their game, though slashed budgets have left minimal funds to erect new residence halls. With just a few hundred beds on campus, the University of Central Florida was long known as a commuter college. When John Hitt became president in 1992, he vowed to change that. Since then, the bed count has increased to about 11,300, with about 700 more under construction. All these beds will be one per room, though some students will have to share bathrooms.

"They don't have to be the super-sexiest facilities you've ever seen, but there's a competitive market out there," he said. "The schools that have the more modern arrangements, I think that makes a difference."
College tuition since 1978 has risen twice as fast as the cost of everything else in our economy. It's much faster than even medical care, which we all know gets more and more expensive every year.
Colleges have to compete for students now more than ever. And since they have few incentives not to add to their cost structure, they build more and nicer facilities to try to win the battle for students.
Maybe it's just the accountant and CPA in me, but I can't see the logic of building ultra-nice, almost elegant school facilities when the rising cost of a college education is such a visible problem.
It's hard not to conclude the obvious – schools don't really care that much about controlling the cost of college. Maybe part of the problem is the government is making more money available, in the form of student and Parent PLUS loans, to more and more students and parents so the higher costs become a moot point. And real estate developers are jumping in the game. They want some of that money too.
This is one reason Parent PLUS loans are becoming more popular to schools. They can make up the gap created as the schools continue to increase their costs each year well above the normal cost of living increases in the overall economy.
Here is a list from the Wall Street Journal article of the amenities at several of the college towns they wrote about.
WOW!
Michigan State University Among the amenities at the Lodges of East Lansing:
Indoor/outdoor fireplaces
Coffee house
Cybercafe
Dog park
Ice-skating rink
Outdoor grills
Gym, pool and sauna
Tanning bed
Private shuttle
University of Central Florida At University House, amenities include:
Tanning rooms
Putting green
Barbecue grills
Pool with cabanas and club house
Gaming room with multiple flatscreen TVs
Internet bar with PC and Mac stations
Texas A&M At the Cottages of College Station, amenities include:
Tennis and sand-volleyball courts
Pet-washing station
Tanning beds
Horseshoe and cornhole pit
Walking and fitness trail
Poolside jumbo screen
Fitness center with yoga studio
Arizona State University When it opens next year, the District on Apache will have:
Outdoor movie screen
300-foot-long lazy river
Steam room
Golf simulator
Outdoor kitchen
_______________________________________________________
SUBSCRIBE: Get New Posts Delivered to Your Email Inbox Automatically
_______________________________________________________